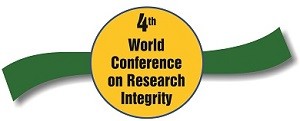 The 4th World Conference on Research Integrity was held in Rio de Janeiro, Brazil, May 31-June 1, 2015. The World Conferences were established as global forums for discussion of ideas, policies and empirical findings related to the responsible conduct of research. The Conferences aim to galvanise the global effort to strengthen the trustworthiness and reliability of research and encourage researchers worldwide to be accountable for their findings. Earlier conferences were held in Lisbon (2007), Singapore (2010) and Montréal (2010).
The Rio conference attracted over 470 delegates from 42 countries, including leaders of research institutions and funding agencies, policy makers, editors and publishers, legal experts, researchers and graduate students. The theme of the conference was Research Rewards and Integrity: Improving Systems to Promote Responsible Research.
These proceedings contain the abstracts of the presentations given at the 4th World Conference in concurrent sessions, partner symposia, and poster sessions. Also included are summaries of the discussion in three focus tracks, which allowed delegates to consider and work on questions about the roles of funders, institutions, and countries in improving research systems and strengthening research integrity. Videos of the plenary presentations are available at the conference website.